LP to CD conversion
LP to FLAC Hi Res Files
LP to 24 bit WAV or AIF Files

24 bit vinyl 

restoration process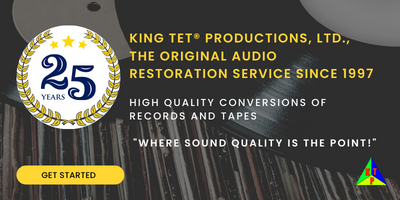 Do you have a special LP Record Album, 45 or 78 in your collection that is out of print but worth converting to CD for safe keeping and digital archiving?
Let Record Rescuers preserve your special record by making a custom CD from your personal copy. A digital recording of your record will be made using a professional grade "digital turntable."  (not to be confused with USB turntables, DIY or cheap "transfer" services) Our unique multi-step 24 bit restoration process includes removing clicks, pops and surface noise without damaging the integrity of the original recorded sounds, frequency range and dynamics. Each track is edited manually, named and individually normalized. The result, your new CD will sound better than the record and you can enjoy it with the rest of your CD collection or digital library!
Rip Ready CDs! This service is not simply a "transfer", your CD will have separate tracks for each song just like commercial CDs! Album title, artist name and each song track will be named and ready to be ripped to MP3.  Professional cleanup process insures the best possible sound.
There are no shortcuts to great sound. We have developed our own process for remastering vinyl recordings. In our unique 24 bit multi-step process: digitizing, surface noise removal, click/pop removal, editing, normalizing and track naming are each separate steps prior to creating your CD. These processes take time and patience however the end result is the best possible sound from your LP.
Hi-Definition scans for cover art!  For an optional $10 fee we will scan the front and back album covers (or provided photos) in HD to create a double-sided color glossy jewel case insert for your CD case!  
The front cover will also be emailed to you as a jpg so you may easily import your cover art into your digital music library.  Click here for 1000 examples of album covers we have recently processed for clients.
Many of our clients are recording artists! Visit our Artist Testimonials section for their comments. Artists as diverse as Roy Clark, John Handy, Mundell Lowe, Ali Akbar Khan, Stoneground & MC Reggie Reg have all used Record Rescuers to remaster their rare and out of print recordings. Every record is treated the same way whether it comes from an artist or a collector. Is that fair enough? For testimonials from collectors click here.
Don't Be Discouraged!  This service caters to Professionals and Serious Collectors
Many of out best clients have tried other companies first, then came to us expressing disappointment for problems such as substandard sound quality, slow turnaround times and poor communication.  Even worse, some companies make false claims, practice "bait and switch" techniques or will flat out lie to you for a sale.
Our only success is when you come back with more records and tapes, so take advantage of free Priority Mail return shipping on your first order and give us a try!
 
78 to CD conversions only $7.50 per side! Preserve your out of print 78 collection affordably and in high quality. Many families have private recordings on 78 acetate. Brands like "Wilcox Gay" and "Recordio" are something we see all the time. Please don't try to play these records before sending. Email us with your info and questions about your 78s.
 
Attention DJs! 12″ singles only $5 per track!
Digitize your old school classics professionally, quickly and affordably. Email
info@kingtet.com 
Hi Res or HiFi FLAC or WAV or AIF files are also an option!
One of the reasons for the exceptional sound quality you can expect from King Tet Productions is the fact that all LPs, singles and 78rpm records are processed in Hi Res 24bit, 96kHz uncompressed Audio format. Restoration of audio in the Hi Res audio realm allows for the best possible sound for CD quality. Many of our clients prefer Hi Res audio files to audio CDs, so 24/96 FLAC files are also an option. The pricing is the same as an LP conversion to CD however you are provided with a thumb drive or an optical disc with your Hi Res FLAC files. The "HD Cover Art" option is still recommended, you will also be provided with Hi Def scans of the front and back cover as PSD or JPG files plus your FLAC files will be "tagged" with artwork, artist name, album and song title for playback. If you are a fan of Hi Res sound, your favorite out of print records can now be restored for Hi Resolution playback. King Tet can also provide suggestions for Hi Res audio players and network drive music storage solutions. Please email info@kingtet.com for more information about Hi Res audio options.
PayPal accepted! Your out of print record remastered in an all digital environment! Scanning original artwork is optional.
All single orders processed and shipped within 24 hours!
Click on the cartoon for more information!